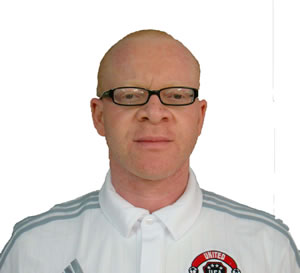 Deo Moleka
deo@UnitedFA.org
S. Deo Moleka
BS in Sports Management - Southern New Hampshire University, 2016
Deo is originally from Congo (DRC) and grew up playing soccer in Europe. He came to the US in 1993 and studied Management at Southeastern University in Florida. Deo has a track record of success of many years as the Executive Director and Academy Director with the Atlanta Soccer Academy, since 2003, a club he co-founded with his brother in Cumming, GA. Deo and his brother started ASA in the fall of 2003. The club went from 76 players that first season to over 1,400 hundred in six years, becoming one of the most competitive and fastest-growing clubs in Georgia, competing at all levels of play.
Deo is the visionary behind the unique club structure, which was designed to eliminate the typical obstructions and difficulties that plague most clubs, and increase visibility of the decision makers within the club. In 2010, Deo orchestrated the club expansion program as United Futbal Academy, an effort that propelled the organization into the top 2 largest youth programs in the state of Georgia.
As a coach, Deo has 13 years of experience as a professional girls coach at the elite level. His teams have consistently competed in top-level leagues and tournaments with great success. Because of the growth of the club and its operations, Deo retired from coaching in 2015 as the Georgia State Cup Champion and the Regional Premier League South Champion with the U13G 02 Premier. He currently serves as UFA Executive Director.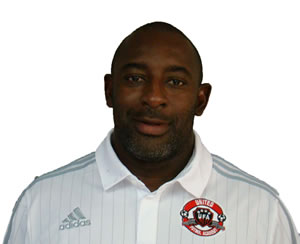 Iggy Moleka
iggy@UnitedFA.org
Ignace 'Iggy' Moleka
National A License, National B License, Coerver Youth Coaching Diploma
A familiar name in the Atlanta youth soccer arena, Iggy is originally from Congo (DRC) and grew up in Europe. Iggy came to the United States in 1993 to play college soccer and study International Business at Florida International University. A FIU Hall of Famer, Iggy lead the Panthers to their first NCAA DI championship final in school history in 1996. He was named MVP at the Umbro Classic All Star and a First Team All American. His professional career took him to Japan for 2 seasons, on his national team for the African Cup and back to the United States with the Atlanta Silverbacks.
He is the Silverbacks all-time leading scorer for 1999 - 2002 and 2000 MVP. His professional coaching experience includes 2003 – 2005 Atlanta Silverbacks assistant coach, 14 years as a professional trainer and coach of Academy, Classic, Athena, Regional, and ODP teams. Iggy was Coaching Director for ASA, where he helped many players to sign up with DI and DII Colleges. He now acts as Executive Director of Soccer for United Futbol Academy.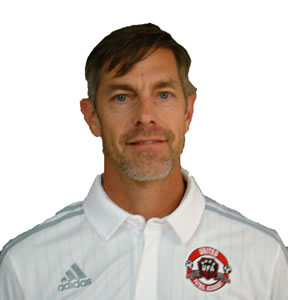 Don Schultz
don@UnitedFA.org
Don Schultz
National A License, National B License, NSCAA Advanced National Diploma, National Youth License, Coerver Youth Coaching Diploma
Don grew up playing soccer in Southern California starting at the age of 10. Coaches played a key role in his desire to be his best. As a sophomore playing on his high school's varsity team, soccer was Don's main sport outside of surfing. While playing in a half-time match during San Diego Socker's indoor game, Don suffered an injury resulting in cartilage damage. His competitive play suffered as a result, but Don continues to play as an adult in both indoor and outdoor soccer at various leagues including the Fusion, Silverbacks, ASA and Stars.
Don also runs camps for players of all skill levels and oversaw the operations of the Forsyth Fusion Soccer Club. Don now acts as the Executive Director of Development for United Futbol Academy. Don was also named 99 Girls State ODP coach in 2012.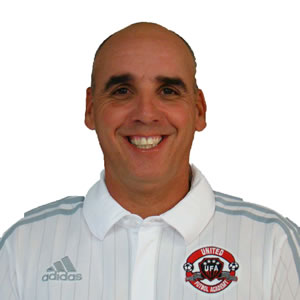 'Gaucho' Pinho
gaucho@UnitedFA.org
Jose 'Gaucho' Pinho
National Youth License, Coerver Youth Coaching Diploma
Gaucho Pinho began playing professionally in Brazil with Flamengo from 1986-93. He went on to play for Botafogo from 1994-95, Nova Iguaci F.C. in 1996-97. He played for Brazil¹s national team as a youth player, earning 15 caps. Pinho was a goalkeeper coach for professional teams in Brazil following his playing career. Pinho was the Director of the Zico Soccer Academy and a coordinator for Zico¹s Inner City program that taught soccer and life skills.
Gaucho is the Georgia State University Goalkeeper and Fitness Coach. He is also the Goalkeeper Coach for the Georgia Amateur Select team, a Georgia Soccer ODP staff coach, West Ham Regional Coach/Recruiter and served as Director of the FFSC Select Program. Gaucho Pinho acts as the Executive Director of Facilities for United Futbol Academy.