NPL & SCCL
United Futbol Academy's (UFA) mission is to provide soccer players of all ages the appropriate level of play and training in a supportive environment where skills for soccer are developed alongside skills for life.
Our goal is to promote the game of soccer by providing a positive learning atmosphere, where players can achieve their full potential in the development of their technical, tactical, physical and mental skills, regardless of skill and ability.
Our purpose is to create challenging programs that are attractive to the novice player, challenging to the average player, and demanding to the most advanced player wanting to play at the highest level.
We want to develop a multicultural organization with a vast array of staff and players to further enhance the culture of the game in an environment that is professional yet enjoyable.
Many leagues have emerged throughout the past few years and through our effort to stay in line with our Mission Statement, we have had to decide on a clear player pathway that will benefit our players the best.
Recreational Program
This is our entry level soccer for young people from age 3 through 19.
There is no skill level requirement at any age, i.e. we will have children of all levels participating on each team in our program. UFA has developed a system that provides both a fun and productive environment for players at all levels. Each team requires a volunteer parent coach, however a professional trainer is provided who works with each age group once a week. Although the focus is predominantly on the enjoyment of playing the game, coaches are encouraged and supported to teach as much about the game as possible in the recreational environment. This will give players confidence, knowledge and a help them to excel in the sport.
Georgia Soccer is our State Association. United Futbol Academy is a member of GA Soccer since our establishment in 2010. For the many years, all UFA teams were competing under the GA Soccer umbrella.
Recreational Teams played in house due to our large number of players
Academy Teams (U8 through U12) play an 8 months' season competing against other GA Soccer Club members.
Select Teams (U13 through U19) are place in different divisions. The placement is made by a number of criteria. Georgia soccer works on a promotion and relegation system.
Boys are in the Classic Division (Classic 1 through Classic 5).
Girls are in the Athena Division (Athena A through Athena E).
U13 and U14 play a Fall and Spring season and compete all over GA.
U15 and up only play a Fall season and play high school in the Spring. They also compete all over GA.
All the UFA teams, U13 and up that have the Red, Gold, Black, or White denominations, will compete between Classic 1/Athena A and Classic 5/Athena E within GA Soccer.
In the event a team finishes first in Classic 1 or Athena A in the Fall of 2018, that specific team will be placed under consideration to participate in the Southeastern Club Champions League (SCCL) or the National Premier League (NPL) in the following soccer year.
As a large club with multiple branches, we have been working on providing good competition for our more competitive teams at U12 and up.
Southeastern Club Champions League (SCCL) and National Premier League (NPL)
The SCCL will mainly run out of our Norcross branch and will consist of the Norcross Premier Teams. Games will be mostly in Georgia with a few matches in neighboring states.
The NPL will be run from the Forsyth branch and will also consist of the Forsyth Premier Teams. UFA NPL teams play in the Southeast Atlantic NPL League. This is a very competitive regionally-based league.
For specifics on each league go to the tab on the UFA website.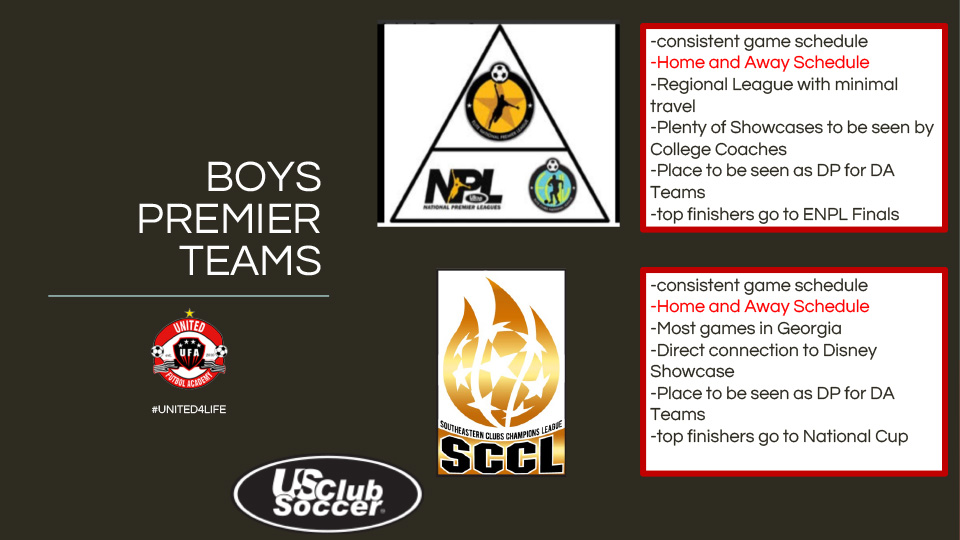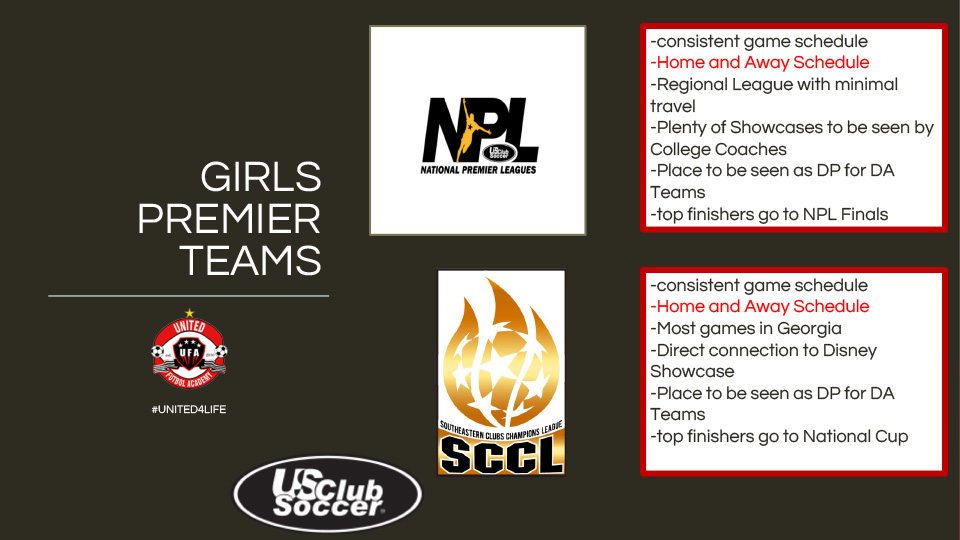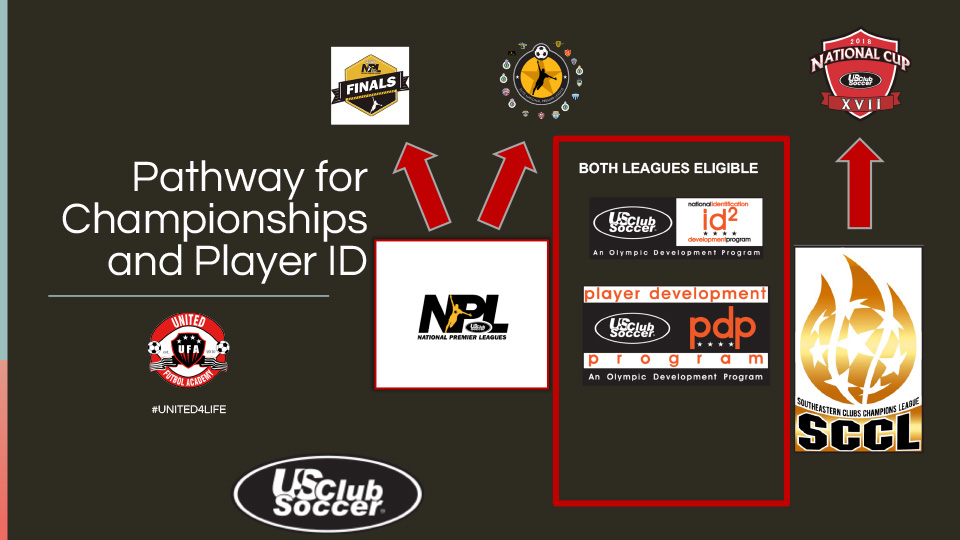 US Soccer Developmental Academy
The DA is for the Elite player striving to be in the top 1% of the country. The league was established to maximize the development of youth players per Federation guidelines. This program requires players to have an exceptionally strong commitment level and passion for the game. They should be prepared for extensive training during a ten month season with travel that allows UFA DA teams to compete against the top programs in the nation.
DA players do not participate in high school season.
Click here for more information on the NPL program.